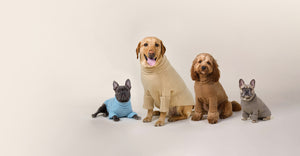 Discover our signature style,

The Pablo
Top quality cashmere suitable for the whole family.
What is Pawshmere?
Pawshmere is a luxury brand that creates cashmere jumpers and designer accessories for dogs.
All our products are responsibly sourced and ethically manufactured, using the highest quality cashmere.
We have designed and created high-end clothing and accessories for dogs; pieces that are airy in the summer, cozy in the winter, and perfect year-round for all dog breeds.
Our products are available in a full range of inclusive fits and comprehensive sizes, so that every dog, and every owner, can be part of the Pawshmere brand.
Learn more
Pawshmere on social
Follow our social media pages on Instagram and Facebook to keep up to date with our latest styles and posts. Remember to tag us to be featured.